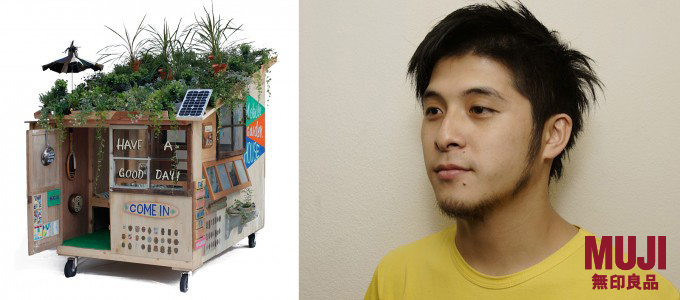 Architect, Writer, and Artist.

Kyohei Sakaguchi, Japanese architect & artist, will join our festival for the US premiere screening of How to Build a Mobile House . (This show ended.) In the film, Sakaguchi's embarks on a personal journey to meet an array of people living thought-provoking and self-sustainable lifestyles amidst the massive urban sprawl of Tokyo.

'How to build a Mobile House' Do-It-Yourself Workshop (This workshop ended.) will be held at an outside booth on Post Street (Admission is FREE – Brought to you by MUJI USA) during J-POP SUMMIT Festival. Festival goers can join (or just watch) Sakaguchi as he constructs an ingenious mobile garden house with workshop attendees that will be exhibited at the MUJI San Francisco retail store, MUJI SOMA, located at 540 9th Street, until the end of August when it will be auctioned. Proceeds will go to local organizations contributing to form a sustainable and green environment in the Bay Area.

▼ Mobile green house is now exhibited at

MUJI SOMA (540 Ninth St, San Francisco)!!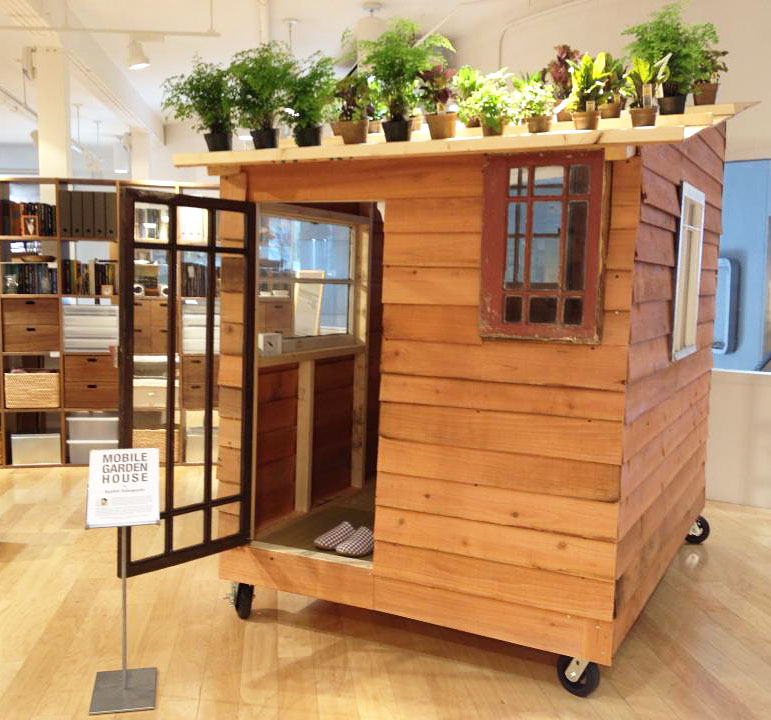 ● Talk Session at UC Berkeley
This event ended.
July 29, 2013 (Mon) 6:30pm – 7:30pm at UC Berkeley Campus (112 Wurster Hall, Berkeley), Admission FREE
Kyohei Sakaguchi has been arguing all along that architecture is for everyone, even those who are the most poor. At this special talk session following the welcoming reception, he will be joined by Dana Buntrock (UC Berkeley) and Tomisaburo Hagiwara (MUJI) to discuss the "Rebirth of Community: Making Space for Living."
Presented by
MUJI USA
/ Co-presented by
sfgreenfilmfest.org
About Kyohei Sakaguchi:
Born 1978 in Kumamoto, Japan. He studied architecture and graduated from Waseda University. While a student at Waseda, he began to question the ways of modern architecture and researched buildings and gardens created by amateur non-architects. His graduating thesis on the temporary structures of homeless people became published as a photography book Zero Yen House in 2004 by Little More. Soon, the book was published in various countries around the world and in addition exhibitions were opened in Belgium and Mexico.
In 2006, he opened his first solo exhibition at Vancouver Art Gallery in Canada and later toured other cities in Canada. In 2007, he exhibited his work and held a workshop in Kenya at the World Social Forum Nairobi 2007 and was a part of an exhibition in France's Saint-Nazaire. In January 2008, he published Tokyo Zero Yen House Zero Yen Life portraying the life of an extraordinary man living alongside the Sumida River. Moreover he has published many novels such as The Edison of Sumida River (Aoyama Publishing Company) and How to Start a Hunting/Gathering Lifestyle in the City (Ohta Publishing Company). One of his latest books How to Create a Self-Supported Nation (Kodansha Ltd) has sold over 50 thousand copies and has become a bestseller. In 2012 he gained public attention for the Kyohei Sakaguchi New Administration Exhibit at the Watari Museum of Contemporary Art in Tokyo's Aoyama district.